Workouts for Couples Kansas City
Workouts for couples Kansas City. Tim and his wife Megan wanted to take charge of their health and fitness, and learn how to do it in a way that was sustainable. They knew that Hitch Fit was the place to achieve those goals! Through the many challenges of 2020, Tim and Megan persevered! Tim is down 28 pounds of fat, and these two have embraced healthy living as a part of their family.
Transformation by Hitch Fit Gym Personal Trainer Eric Reynolds
Tim's Transformation Stats
Weight: 188 lbs down to 160 lbs (a loss of 28 lbs)
Body Fat Percentage: 24.11% down to 13.98% (a loss of 10.13%)
Waist: 39.5" down to 32.5" (a loss of 7")
Hips: 43.25" down to 39.5" (a loss of 3.75")
Tim's Before and After Weight Loss for Men Photos: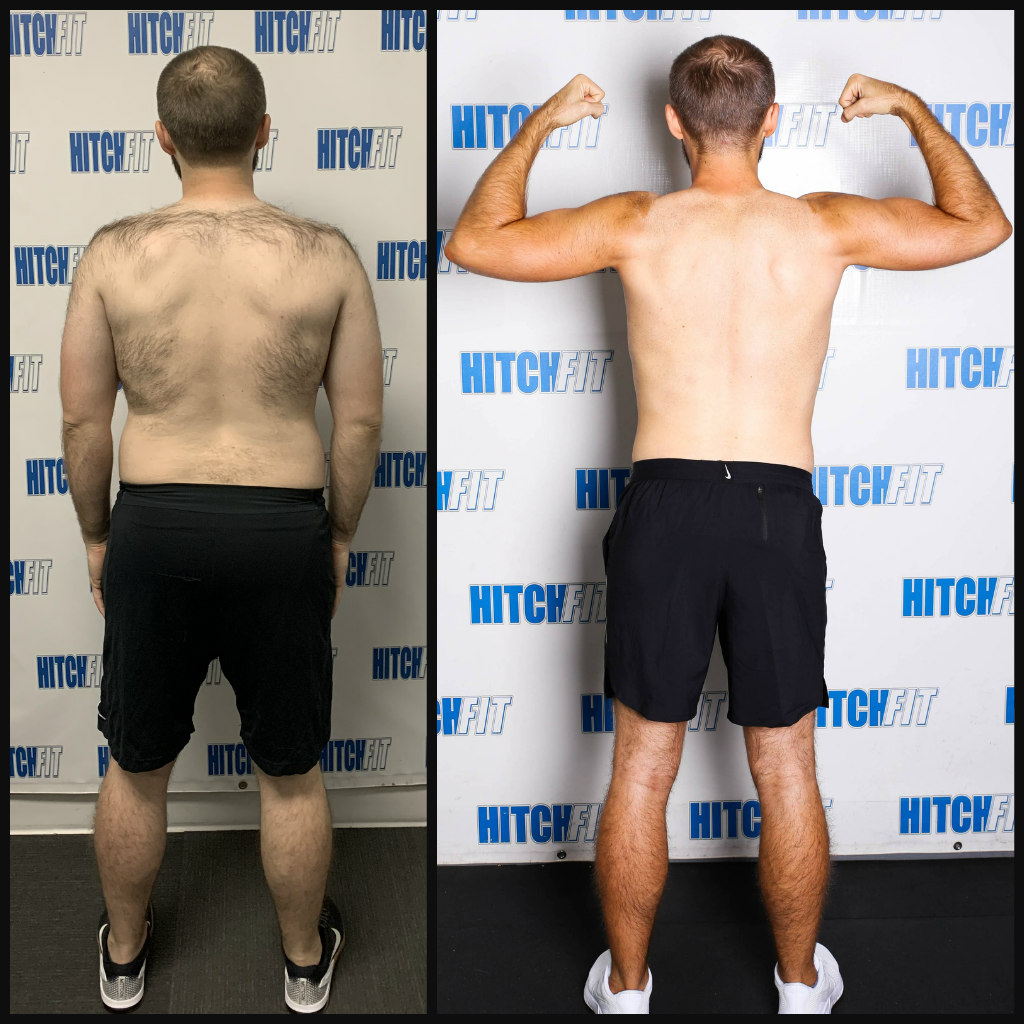 Tim's Couples Fitness Transformation Story
"A couple years ago, I felt really good about myself, because I did a keto diet and lost weight really fast. I bought all new clothes and was thrilled with the changes, but never was disciplined. It was just a fast way to lose weight without much effort. I looked a lot better than I used to but really had no plan to maintain it, so it wasn't sustainable. Because of that, it was easy to gain the weight back, and I did.
As I started to gain the weight back and didn't fit into my clothes anymore, I was angry with myself but didn't know what to do. I remembered Hitch Fit because I had met Micah a while back. I knew I could trust the Hitch Fit process so I decided to sign up my wife and I to get started.
COVID and quarantines threw a wrench in our plans, but we were able to start once gyms opened up again. I expected to lose the weight since I knew I would actually have a plan laid out to keep it off. For instance, the meal plan was awesome because it made it easy for me and took out all the guesswork. I knew exactly what I was supposed to prepare for every day, and knew it would help my progress.
Workouts were great. Eric was our trainer, and he was awesome and did not make us feel stupid for gaining weight back or for struggling with anything or doing it wrong. He educated us on food and supplements and workouts from day one and answered all our dumb questions. We enjoyed every session with Eric. He and everyone at Hitch Fit felt more like building a relationship than just showing up at a gym and paying someone to help us look better. I would 100% recommend him to others for all of the above reasons. He made it a great experience.
The end results were better than anything I expected. I knew I would lose weight but didn't know I would enjoy the process as much as I did. I also developed the habit of running and look forward to that time at the end of every day.
I would encourage anyone who wants to make a change to go for it. They make it easy to understand and follow and empower you the stick with it. I'm so glad I made the decision to go through the process and as a result, feel so much better about myself and know how to properly maintain my health in the right way."
Are YOU Ready for YOUR Transformation with Eric?
Call 816-877-2042 or write to [email protected]
Or call 816-753-8900 and request to train with Eric!