Lose 30 Pounds in Parkville
Lose 30 pounds in Parkville! Mary was at a challenging time in her life, noticing signs of anxiety and depression, when she first came to Hitch Fit. She was nervous as she knew this journey would be a tough one, but as she gained STRENGTH in many ways and lost 30 pounds!
Mary's Before and After 30 Pound Weight Loss Stats:
Beginning Weight: 150
Ending Weight: 120
Beginning Body Fat: 32.48%
Ending Body Fat: 16.05%
Before and After Losing 30 Pounds of Fat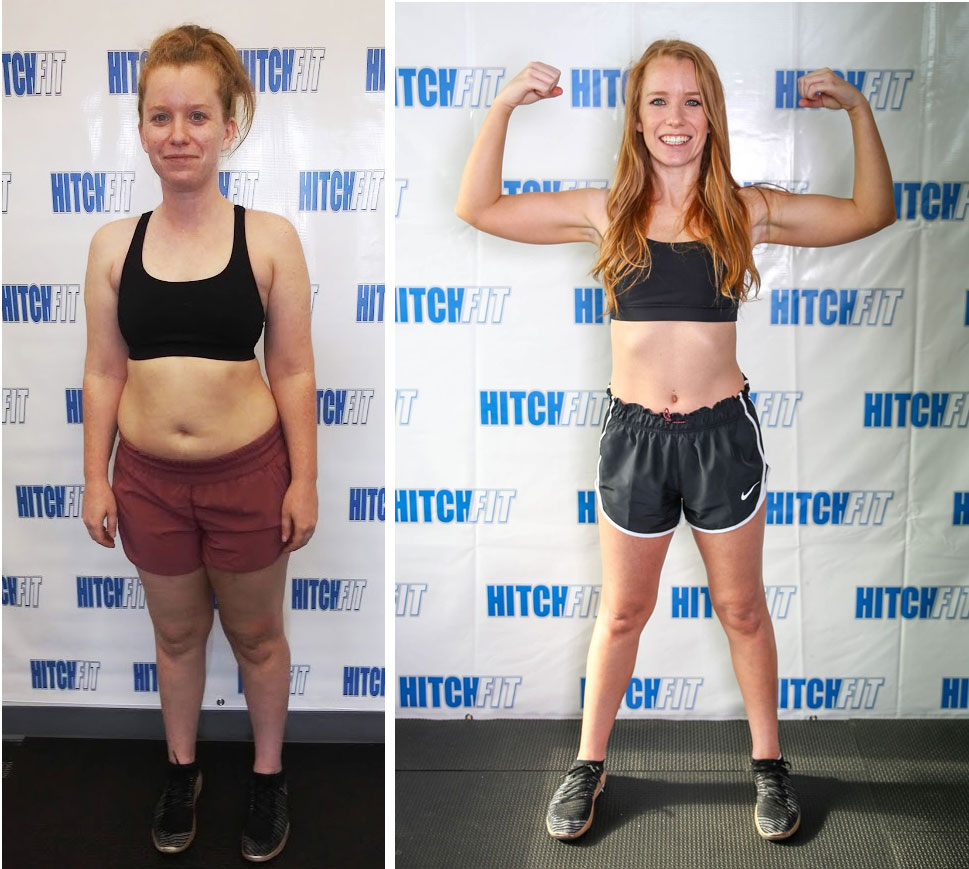 Mary's 30 Pound Weight Loss Transformation Story:
"When I signed up for Hitch Fit I was in a pretty low period of my life.
I had not been active regularly since my teens and had developed some pretty terrible eating habits. I grew up in a fairly active and healthy family, and both of my parents encouraged me to make changes when they noticed I was beginning to struggle with depression and anxiety.
I was terrified when I entered the Hitch Fit gym, and after my first session with Cindy I actually sat in the Walgreens parking lot for about twenty minutes contemplating what I had just signed up for -this was going to be hard!
Truthfully, I thought about quitting almost every session that first month. I now realize that this negativity was my anxiety, but if I had not had Cindy encouraging me and assuring me that I absolutely could do this, I definitely would have talked myself out of trying.
Within the first month, I began to notice huge changes, not just in how I looked, but how I felt. I had gotten so used to the way my body felt when I was eating terribly and treating it poorly that I was shocked at the HUGE difference healthy food and regular exercise made.
The Hitch Fit program taught me how to eat and what to eat, which is a huge gift in a world that promotes foods as products instead of nourishment and fuel. As happy as I am now with the way I look, I am also very proud of how strong I have become physically and mentally. The Hitch Fit program IS hard, but I now realize that my life before Hitch Fit and working out with Cindy was significantly harder. I am so thankful that I had this experience, and endlessly thankful to Cindy for showing me the way!"
Are you READY to Transform?
Contact Hitch Fit Gym Parkville Trainer Cindy Long
Call or Text:816-225-3397
Email: [email protected]
If you are closer to our Midtown Kansas City gym location please sign up for a FREE consultation at www.HitchFitGym.com/contact or call 816-753-8900
For online personal training plans available globally visit www.HitchFit.com