Couples Fitness Kansas City
Couples fitness Kansas City. Megan and her husband Tim decided to make a healthy lifestyle change together. They knew that Hitch Fit was the best place to do it! Their transformation journey involved many challenges (including COVID shutdowns!), but Megan and time persevered and achieved their goals!
Transformation by Hitch Fit Gym Personal Trainer Eric Reynolds
Megan's Before and After Weight Loss Stats:
Weight: 134 lbs down to 130 lbs (a loss of 4 lbs)
Body Fat Percentage: 16.34% down to 13.90% (a loss of 2.44 %)
Waist: 32" down to 28" (a loss of 4")
Hips: 39" down to 37" (a loss of 2")
Megan's Before and After Fat Loss Photos: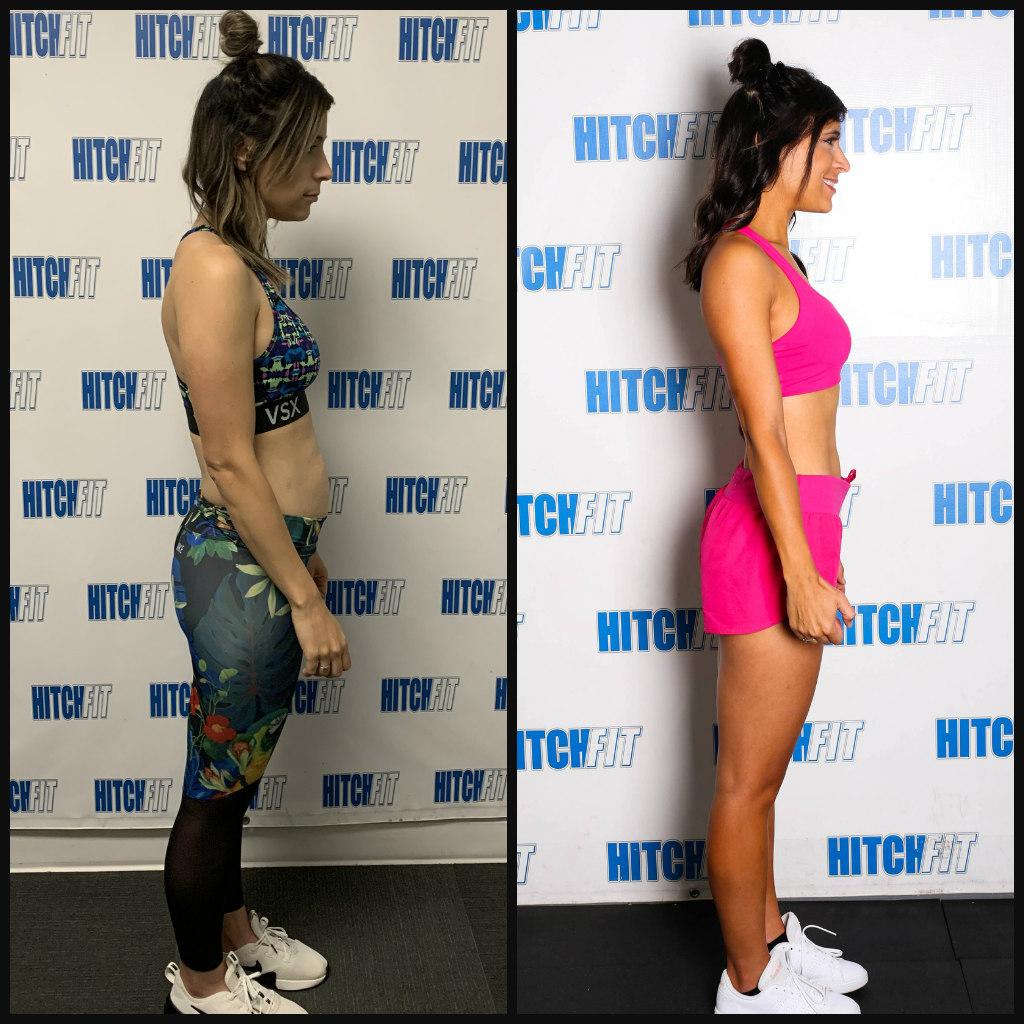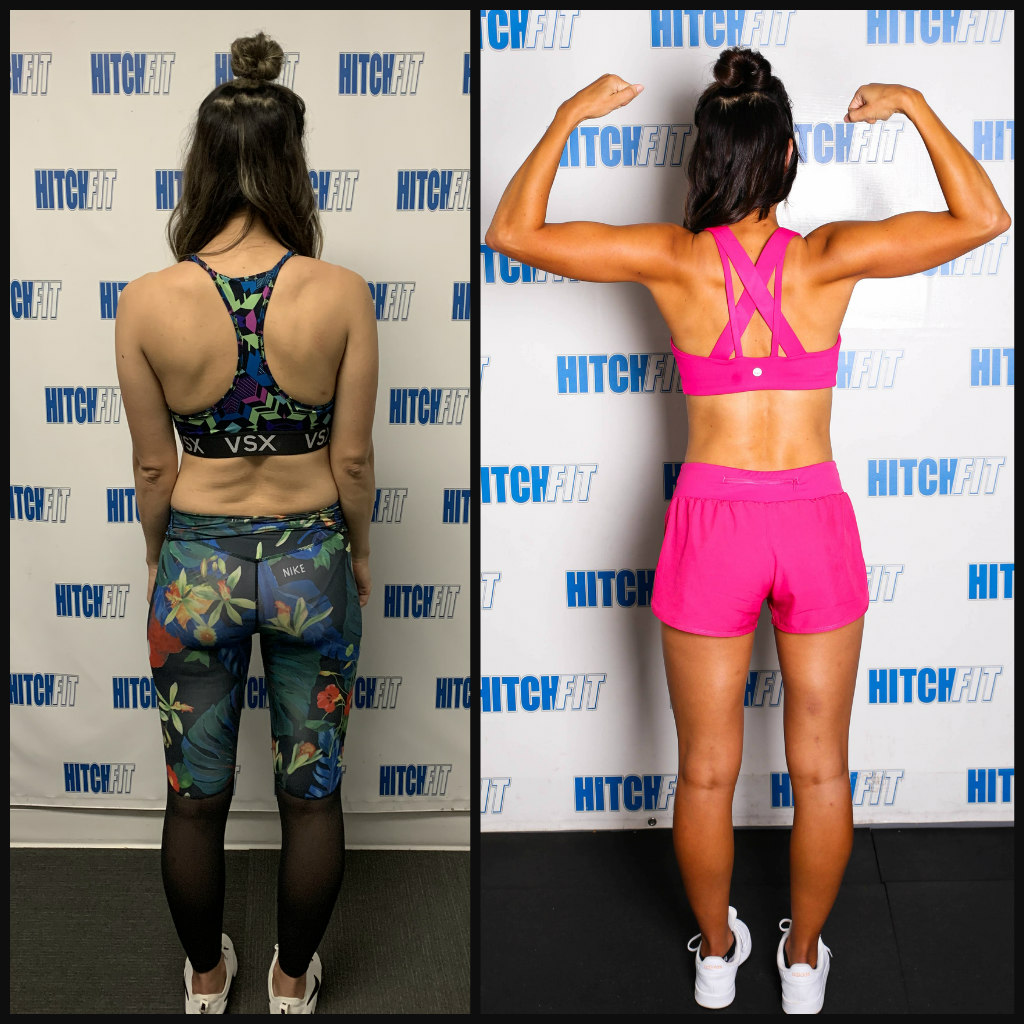 Megan's Couples Fitness Kansas City Story
"For years, I was unhappy with how I looked and how I felt every day. I never had enough energy. My weight always fluctuated, and especially after having kids changed my body so much, I really struggled with loving myself. I'd almost always had a poor self-image, and mentally berated myself to the point of depression. At my worst, I refused to eat anything for days, and got thin enough to draw concern from people who knew me. I couldn't sleep at night and tossed and turned most of the time. I literally hated everything about myself. In every way, I was weak and unhappy.
Once I actually took steps for positive change and got healthier mentally, I wanted to do the same physically. My husband, Tim, had met Micah years ago and suggested we try Hitch Fit, so we took our "before" photos and were ready to go—and then COVID hit and the stay at home order started. Weights and almost any other kind of workout equipment were sold out everywhere, and we couldn't go to the gym. So it was discouraging, because I really was excited to get started. But I did start the meal plan, which was honestly easy to prepare and to stick with. Since I generally avoided sugar and most unhealthy carbs already, I didn't have too much of a problem with the meal plan and was glad to have something specific to follow. I had it printed out and in the kitchen so I could make sure to follow it properly. Meal prepping took a while but is definitely worth doing in order to stay on track when you get busy. I missed pizza or ice cream some days, but I knew the end goal was worth it. And I already had so much more energy by fueling myself with the right kind of food. Any time we had to take a trip, we packed a cooler with the food according to our meal plans so we could stay on track, and it saved time and money too.
By the time Hitch Fit was open again to start training in person, I was honestly a little nervous because I had no idea what to expect, and was anxious about doing anything right. But it helped that we were doing it together as a couple, and Eric is a genuine and friendly person, and the whole time was so kind, relatable, and patient that we felt comfortable right away. He always explained everything in a way that made sense, and I know Tim and I both looked forward to every evening we were at the gym because we thought he was fun to just be around and talk to while we did our workouts. It was obvious that he really loved his job and cared about the people he was training. He was also really patient and flexible with our always changing schedule and always made it work. I've already recommended him to friends and will keep doing the same. I can guarantee to anyone else like me who may be hesitant about starting the process that he will make you so glad that you did.
I never thought I would be someone who loved being at the gym, but every single time, any stress or anxiety or negative feelings just melted away, and were long gone by the time I was leaving. I always left looking forward to the next time.
As weeks went by, it was incredible to see visible changes happening. I'd always wanted to be stronger, and I could see muscles showing that never had before. I have to say I still don't love leg day, but seeing those changes is enough to push through it. I also always hated running, but have learned to actually enjoy it. Lifting weights is what I enjoyed the most, and I was most excited about not being scrawny anymore but having some actual definition. I actually really enjoy doing them at home and finding workouts that incorporate both cardio and weights and challenge me in different ways. My kids love watching and are always trying to copy what I'm doing, and I love that they see us making positive changes.
When we were around halfway through the 12 weeks and Eric sent side-by-side photos of when we started vs. where we were now, I don't know if I've ever been more proud of myself. I've always been so negative and self-sabotaging, and doubted my ability to do anything, so I struggle with actually following through. But seeing the huge difference in how I looked and the visible change in confidence as well just blew my mind and made me so excited to keep going.
Toward the very end, our "12 week" plan hit all the snags. We had two different COVID scares and one two-week quarantine. I was so ready to finish strong but life decided to get messy. Again, before I would have likely gotten overwhelmed and given up. The uncertainty and tension brought on by the pandemic and the effects it has on everyday life doesn't really go away, and some days lingers heavier than others. I was devastated I had to keep my healthy kids home from school.
But we kept working out at home and our entire family stayed healthy, never got sick, and we were able to reschedule and take our final photos like we planned.
I am introverted and hate being the center of any kind of attention, and prefer to be behind the camera instead of in front of it. But I can say with complete honesty that I have never felt more confident and truly, completely happy to be getting those final photos taken. I am the healthiest I've ever been in my life, both mentally and physically, and that is worth documenting and worth being seen. I am stronger, happier, and all around better, and that kind of well-being has a ripple effect on the rest of my life. This is the kind of woman and wife and mother I want to be."
Are YOU Ready for YOUR Transformation with Eric?
Call 816-877-2042 or write to [email protected]
Or call 816-753-8900 and request to train with Eric!