Over 50 Pounds Lost at age 60
When Rob realized at age 60 that he needed help learning how to lose body fat and build muscle, he discovered Hitch Fit! He has lost over 50 pounds at age 60. What an inspiration! Transformation by Hitch Fit Gym Trainer Steven Stollenwerk.
Rob's Before and After Weight Loss Stats:
Starting weight: 247
Ending weight: 190
Starting body fat: 34.2%
Ending body fat: 16.7%
Waist measurement: lost 9.5 inches
Chest measurement: lost 11 inches
Rob's Before and After – Over 50 pounds lost at age 60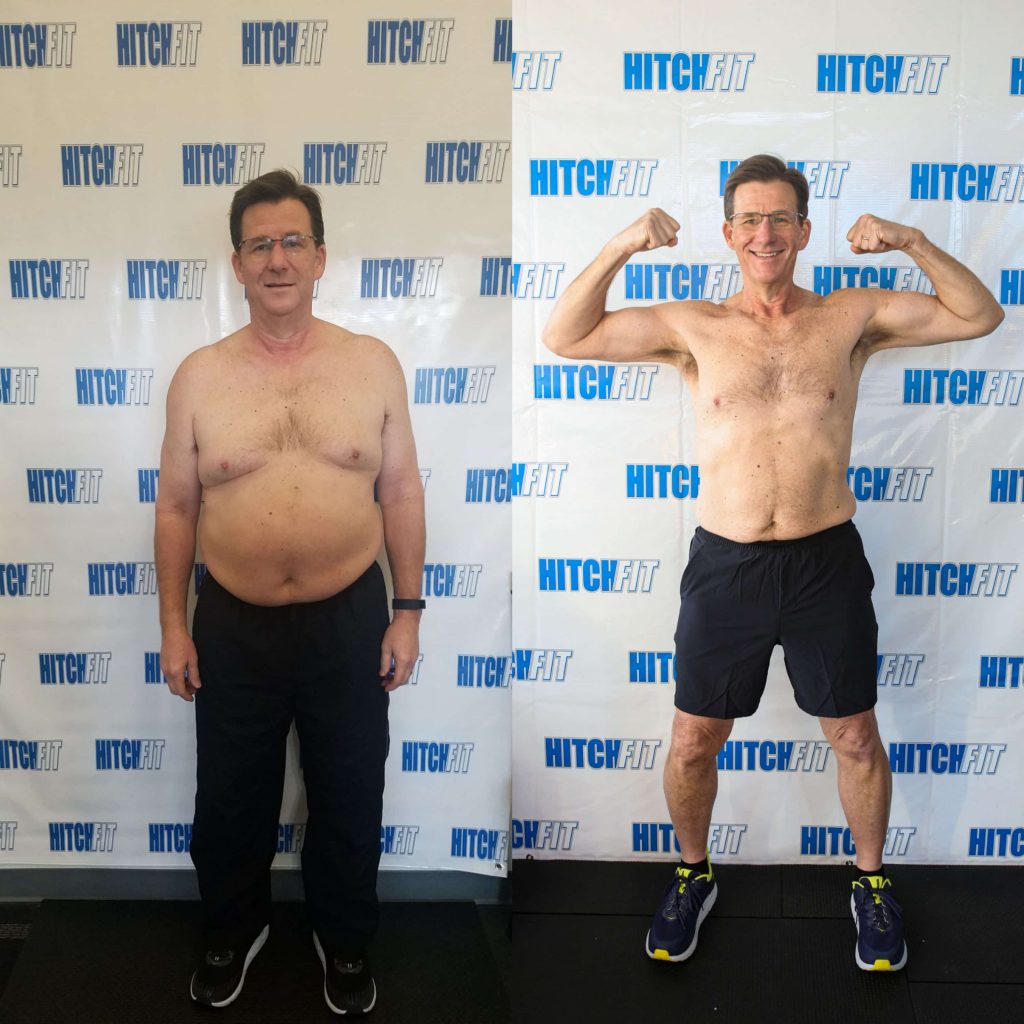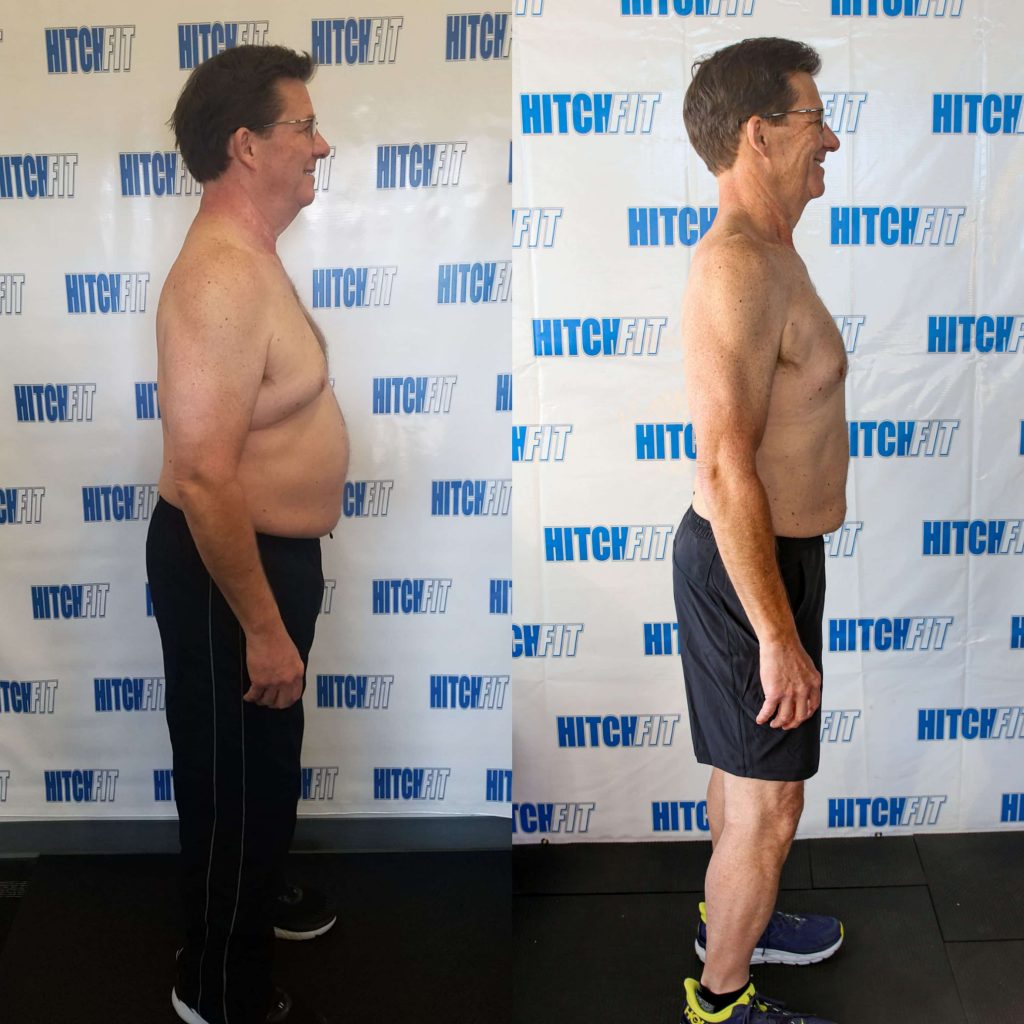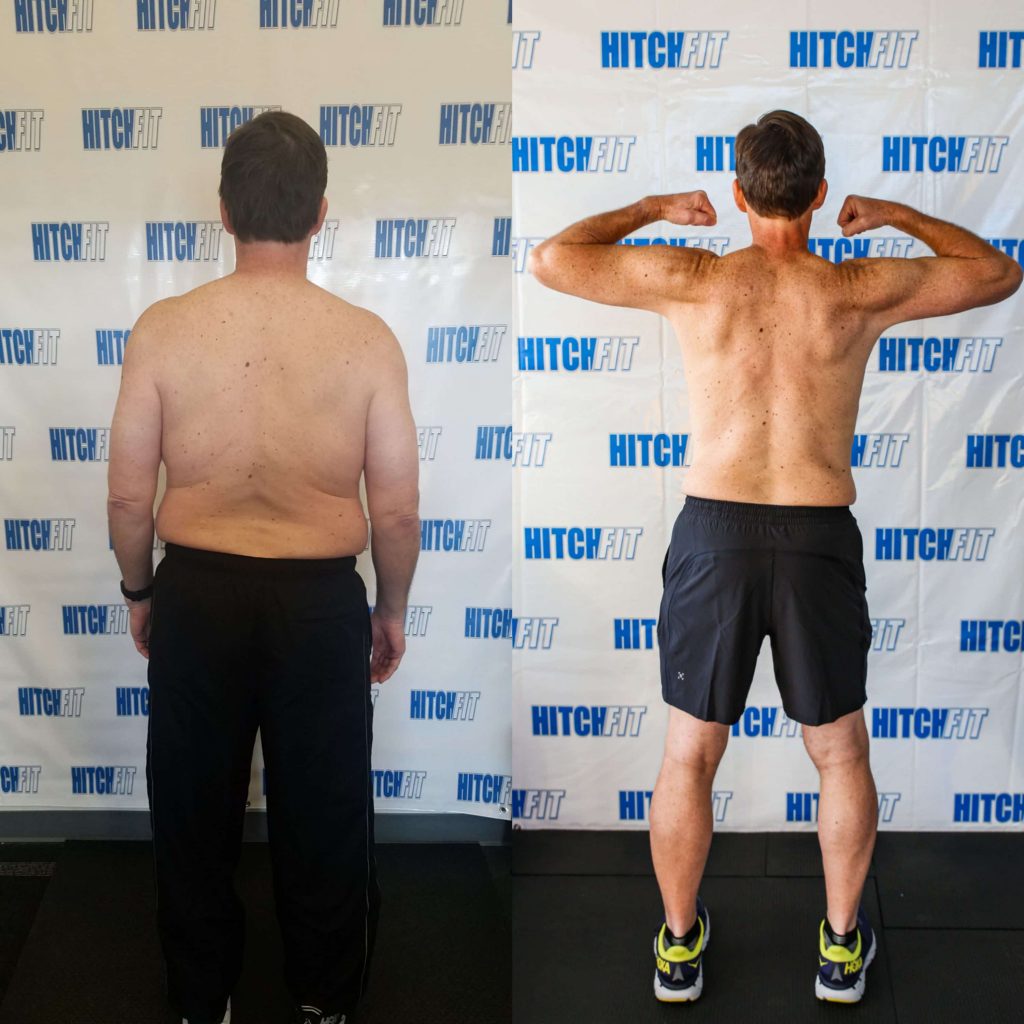 Rob's Hitch Fit Gym Transformation Story:
Get in amazing shape at 60
2020.
The year of Covid-19. The year of highs and lows. The year my family lost a loved one due to Covid-19. The year I admitted that I needed help losing weight and getting in shape. The year I found Hitch Fit and Steven, my trainer.
After getting married in 1988, Denise and I began our life together managing 2 careers, raising 2 children, and living life. Part of that life for us was a slow, progressive weight gain. I realized that I was gaining weight, promised myself that I would deal with it…soon. But life moved on and I never really dealt with it. Yes, there were starts and stops, but I was never committed to the whole process. Twenty years later in 2008, seemingly all-of-a-sudden, I'm tipping the scales at 280 as I approached my 50th birthday. Vacation pictures were so uncomfortable to look at, seeing my body. Yikes!
About that time, my wife joined a weight-loss program that I joined in on, and that had us changing our diet, what we ate, and how much we ate. We each saw significant weight loss; I lost 65 pounds! Wow, that was great, but then over the next 12 years, that slow, progressive weight gain had crept back into our lives.
Flash forward to February 2020. I was 60 years old and I weighed 250 pounds. I had such success losing weight in the past. What happened? Simply cutting back on my calorie intake was not enough – I needed more. It was then that I promised myself to lose weight, get in shape, and get expert help doing it. I needed someone to help me with the "how to do this", someone to hold me accountable, someone to help make this life-changing for me. This is when I noticed the Hitch Fit Gym in Parkville. I did my research and liked what I learned about them.
My Hitch Fit trainer, Steven, turned out to be the perfect match for me. He tailored a program that fit me, my weight loss and body fat goals. This balanced program included nutrition, cardio and resistance training. Steven never judged me, but always required me to be honest with myself. I began this journey with 34% body fat, with a goal to reduce it to 17%. I knew that if I committed to the process, jumped into it with both feet, I would 100% reach my goal.
Now, back to Covid-19. I began two sessions per week at Hitch Fit on February 21, 2020. After 9 sessions, Hitch Fit Gym was forced to close. I was disappointed and didn't want to lose the amazing progress I had already made, so Steven supported me through that time and I made continued progress. I purchased a set of resistance bands and we stayed on track. Hitch Fit was able to reopen in May, so I happily went back to the gym for training.
Long story short, in January 2021, I met my 17% body fat goal. I've lost nearly 60 pounds. I feel great and look so different! The health benefits of losing body fat are obvious, and for me, it's also been an incredible boost to my mental well-being! I'm now working with my Dr. to reduce or eliminate my blood pressure medication.
My advice: if you want to lose weight and get in shape, don't be like Rob! Don't wait until you're 60 to get serious. Do it now! It's been an amazing journey. It's been difficult. It hasn't always been fun. But the feeling of reaching your goal is amazing.
It's such a good feeling to finally reach this goal, to finish it. It's such a good feeling to be the "right size" again, to have eliminated the jumbo belly, the round face, the multiple chins. I've also been blessed to have done this with my wife, who has supported me by following the nutrition plan and has lost 35 pounds herself!
Thank you, Steven and Hitch Fit, for helping me transform my life! I could not have done this without you!
Are you READY FOR YOUR TRANSFORMATION with Steven Stollenwerk at Hitch Fit Gym?
Email: [email protected]
Phone: 816-517-8632
Or call 816-753-8900 and request to train with Steven at our Parkville or Downtown Kansas City Location!