50 Pound Weight Loss Leads to Pregnancy
50 Pound Weight Loss Leads to Pregnancy!
Morgan wanted to get pregnant, but her weight was having a negative impact on fertility.
She lost 50 pound with Hitch Fit and guess what…she's pregnant!! Amazing!
50 Pound Weight Loss Success Story
Morgan's Before and After Weight Loss Stats:
Beginning Weight: 284
Ending Weight: 234
Beginning Body Fat: 60.36%
Ending Body Fat: 47.19%
50 Pound Weight Loss Before and After Photos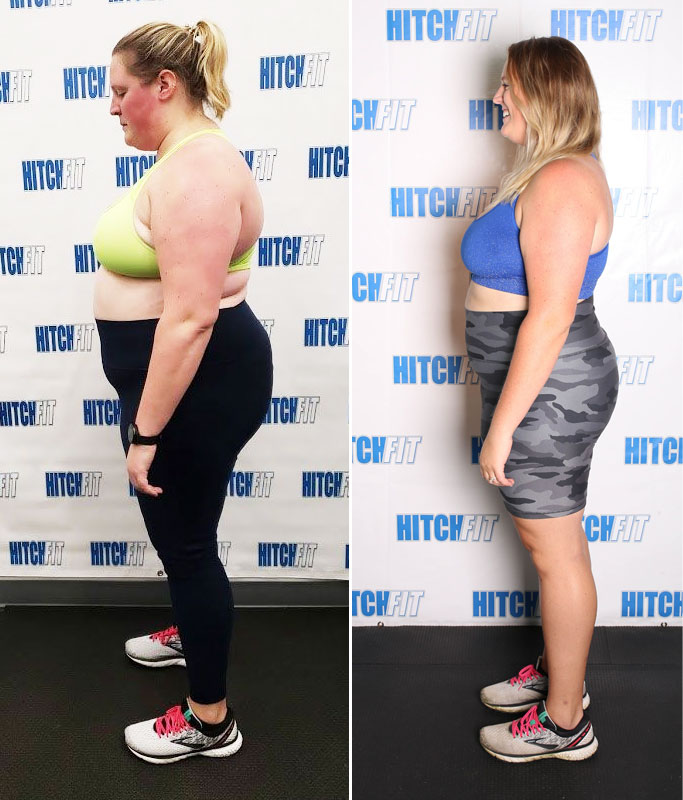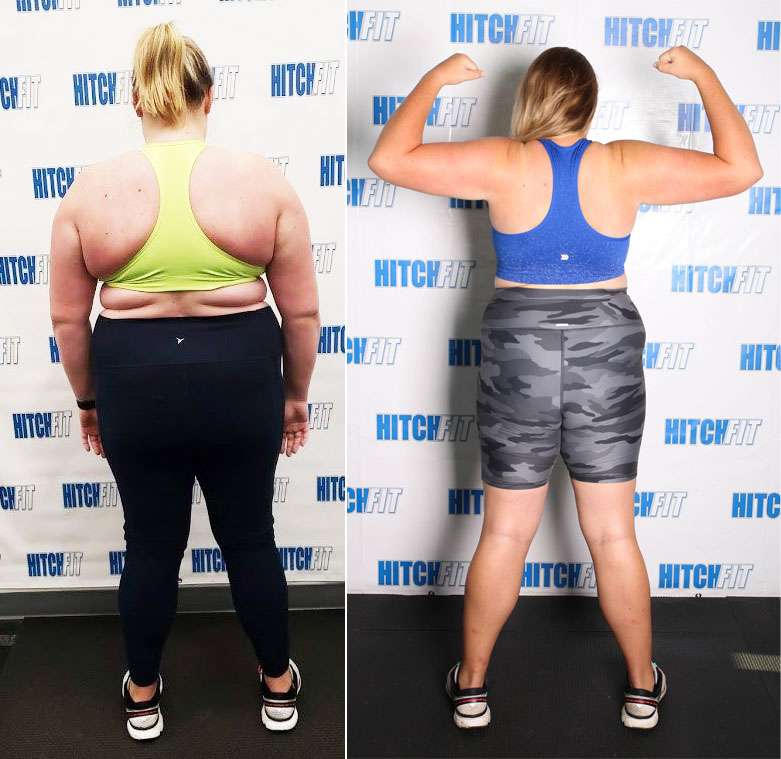 Morgan's 50 Pound Weight Loss Journey and Hitch Fit Gym Review:
"For the last few years, I've watched my weight slowly climb until eventually I stopped looking. I was ashamed to see myself, not only on the scale but in the mirror and in photos. It felt like the person I was seeing wasn't who I really was inside so I hid away. When my husband and I wanted to start a family, we ran into some issues. I knew my weight played a huge role in my fertility and the health of our baby, so I finally made the decision to seek out an expert and change my life. I did a lot of research, wanting to find a gym and a trainer that would support me in my long-term goals about my health, not just trying to lose weight but building an all-around healthier lifestyle. When I found Hitch Fit, I knew I had found the one!
My time with Hitch Fit and with Cindy was hard- there is no sugar coating it! I knew in order to really change I had to put in the work both in and out of the gym. Cindy helped me change my eating habits, always taking the time to explain the WHY behind every decision we made. I not only eliminated foods that were unhealthy, but added foods packed with protein and health benefits. It totally changed my relationship with food in the best ways. I learned a ton about how to build muscle and trim fat without ever having to take the time to create my own workouts. All I had to do was show up and Hitch Fit took care of the rest!
50 pounds lighter, I feel confident in my body. I am no longer ashamed to show who I am, both inside and out. I am lighter, but I am also stronger, healthier, smarter, and pregnant! After reshaping my body from the inside out, my fertility issues vanished and we will be welcoming a baby to our family in just a few months. Thank you Hitch fit and Cindy for all you've done for me. This gym is truly transformational, and I could have never done it without you!"
Are you READY to Transform?
Contact Hitch Fit Gym Parkville Trainer Cindy Long
Call or Text:816-225-3397
Email: [email protected]
If you are closer to our Midtown Kansas City gym location please sign up for a FREE consultation at www.HitchFitGym.com/contact or call 816-753-8900
For online personal training plans available globally visit www.HitchFit.com