Reverse Weight Gain at Hitch Fit Gym!
Emily reversed the couple pounds a year weight gain by coming to Hitch Fit Gym and learning healthy eating habits!
Transformation by Hitch Fit Gym Kansas City Personal Trainer Nancy Choquette!
Emily's Weight Loss Progress at Hitch Fit Gym:
Lost 16+ Pounds of body fat
Lost 3.5 inches off waist
Lost 7.78% body fat
Lost 3 inches off hips
Emily's Before and After Weight Loss Photos: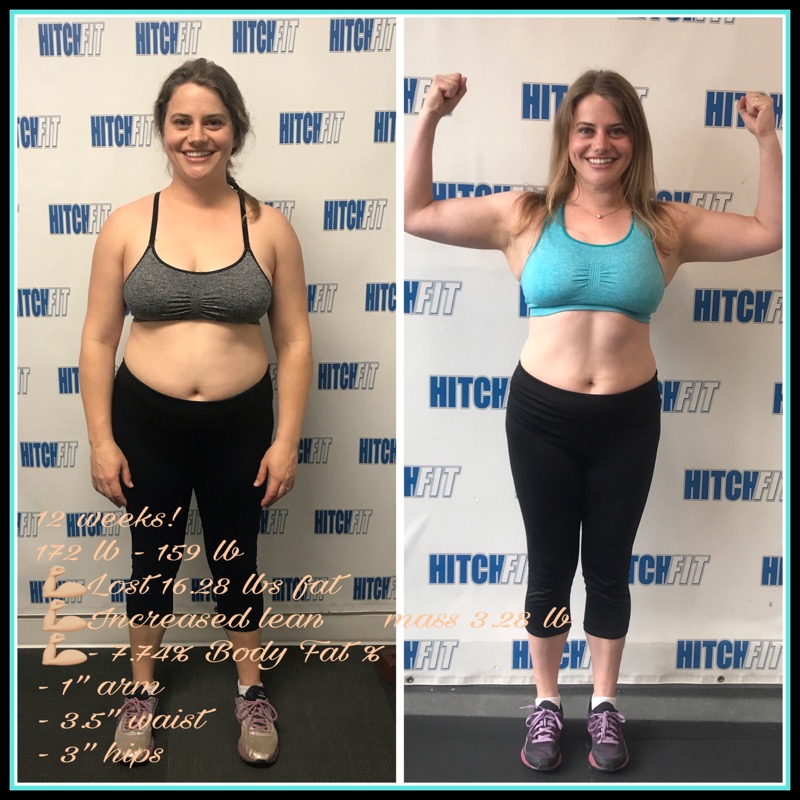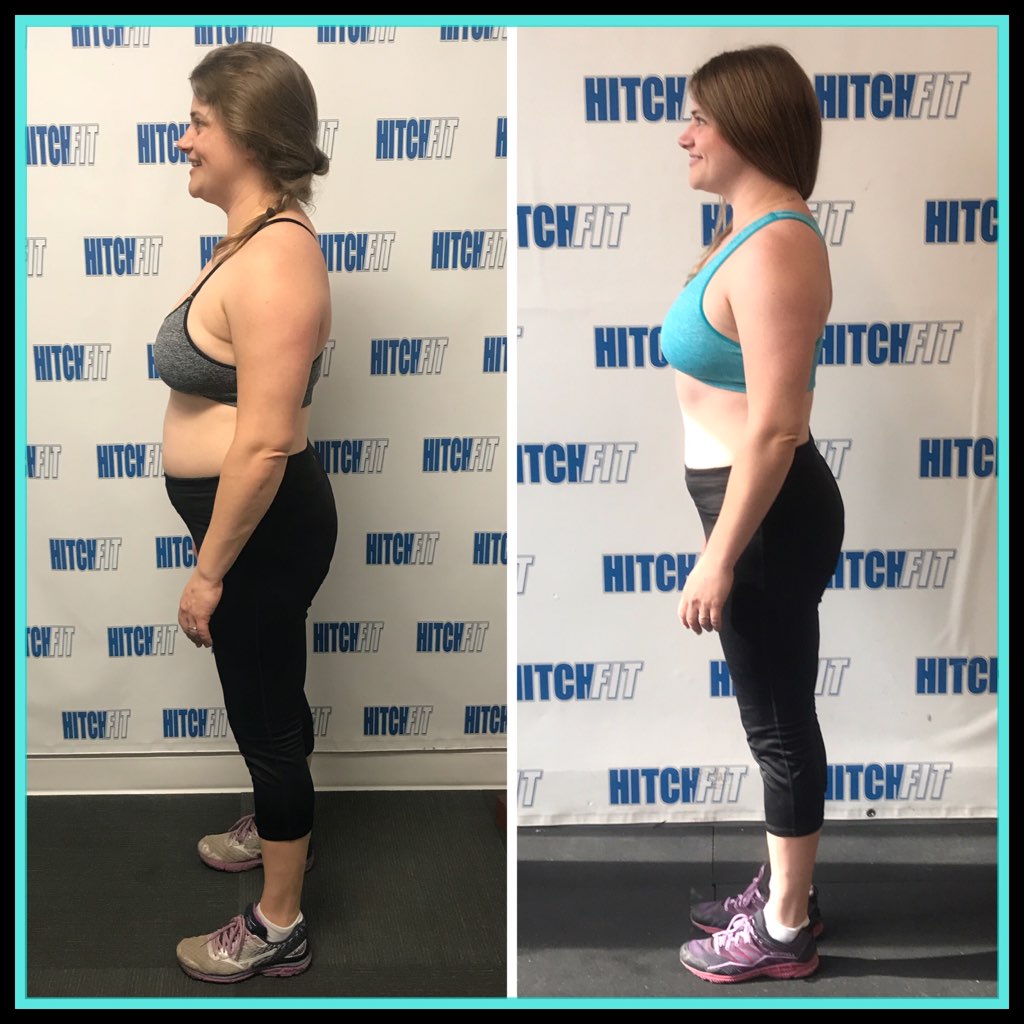 Emily's Story and Hitch Fit Gym Review:
"I am 37, and have gained a few pounds here and there every year. Nothing extreme, but more and more, I have become mindful of the fact that unless I did not reverse the trend, I would be a pretty unhealthy 60 year old. I like being healthy, but I have never achieved a consistent healthy diet or a consistent exercise routine. I have never been able to reverse the scale – only a constant inching up, up, up. Last year, my soon-to-be husband was working out of town. Without him around, I had devolved into not eating very well. Several nights of cereal for dinner, not many proper meals and more eating out. I saw my friend Jennifer's transformation with Hitch Fit. I respect Jennifer and was so proud of what she had accomplished. I figured it was worth a visit with Nancy. And, of course, it was!
Nancy and I had a great chat and decided that I should really commit myself to the program after our honeymoon, when I was ready to really focus. That was several weeks out. I was so ready to get started by that point that I emailed Nancy for my first appointment from the plane coming back from Hawaii! I jumped in right away and the pounds started falling off. I loved the meal prep. and finding a routine with food that took the guesswork away. I was no longer having to rush out from the office to buy some sort of blah sandwich, but was instead calmly creating these delicious bowls of flavor and nutrition all on my own, day after day. I felt so much more in control and steady. And I felt strong!
Workouts with Nancy were hard and fun. It was nice hanging out with the other trainers and their clients too, knowing we were all working toward similar goals. Nancy called me an athlete one day, and I almost started crying. I have never been an athlete. I love feeling strong and pushing myself, but I was a choir and theater kid in high school! Now, I was packing a gym bag every day, and I was seeing real results. Do you know that feeling the first time you wash your hair after you cut it really short? How foreign it feels, like something's missing? That's how my body felt. All of a sudden, I would catch myself pinching my neck, or feeling my waist, and realizing it was so different – tighter, healthy, slim. I did have some setbacks. I pulled a groin muscle which slowed my cardio a bit. Nancy was great about modifying our workouts and coaching me into the Epsom salt baths. And, of course, vacation, family dinners, night meetings, funerals, and a sinus infection to top it off! I think you call that "life" though, and I know whatever success I achieve in the long run will have to come in among all those real life events. I feel confident that I know how to make further progress, and I can't wait to text Nancy when I hit that next milestone."
Are you READY FOR YOUR TRANSFORMATION with Nancy Choquette at Hitch Fit Gym in Kansas City?
Email: [email protected]
Call: 816.506.0393
Or call 816-753-8900 and request to train with Nancy Choquette at our Downtown Kansas City Location!
If you are closer to the Overland Park location, please call 816-753-8900 and we will gladly set you up with one of the transformation trainers there!