Positive Vibes Help Transform at Hitch Fit
One of the things that sets Hitch Fit Gym apart from all the rest is the culture of positive vibes and encouragement for the clients that set foot through these doors! Vanessa discovered this first hand through her transformation journey!
Transformation by Hitch Fit Gym Kansas City Personal Trainer Nancy Choquette!
Vanessa's Weight Loss Progress Stats
Lost 16+ Pounds of body fat
Lost 3 inches off waist
Lost 3.75 inches off hips
Vanessa's Before and After Weight Loss Photos: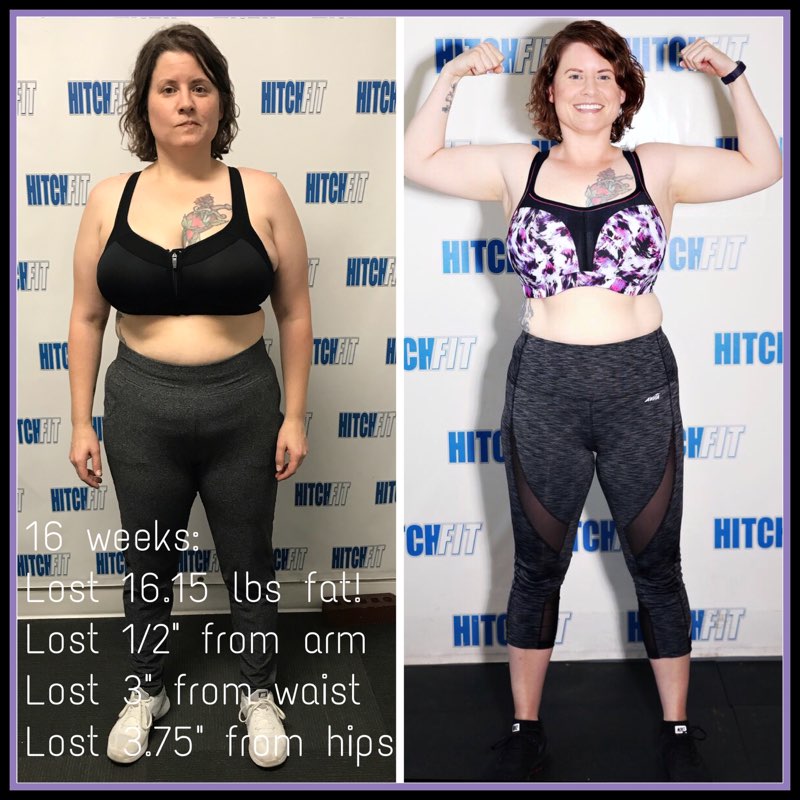 Vanessa's Story and Hitch Fit Gym Review:
1: What was your situation/feelings/condition before starting Hitch?
On September 1, 2017, I discovered a poem by Mary Oliver titled 'The Journey'. This marked the moment I found my voice and LISTENED. There were changes that I needed to make in my life and this poem served as a reminder that I needed to prioritize myself. It opened my eyes and allowed me to explore and reconcile what I felt in my heart with where I was in life – two completely different places.
While fitness was just one aspect of my transformation, it served as a central tenet. The beginning of my journey was marked by connecting with fitness-minded people via Meetup. I hiked with groups a few times a week for what I dubbed 'Trail Therapy.' After awhile, I started running steps at the Liberty Memorial. (*Did you know…there are 144 steps per lap???)
2: What was your experience like at Hitch Fit?
My transformation stalled shortly after the New Year. With the weather, my option for outdoor activities was limited and, being new to the area, I wasn't sure what options existed for gyms. Up late at night, Googling, I came across Hitch Fit and the Groupon. I hadn't worked out at a gym like Hitch Fit before, nor had I ever had a personal trainer. I didn't know what to expect, really, but I knew that I needed help with my journey. I needed somebody to have my back. I needed Nancy.
When I first met with Nancy, she asked if I'd like to think about it. Absolutely not. I was sold the moment I walked in the door and saw her beaming smile. Nancy was the icing on the cake (which you shouldn't eat…) for my transformation process. She is an incredible woman with a heart of gold, dispensing her wisdom around sets. Although she expects highly of you, she also understands when obstacles stall your progress. Nancy, along with the rest of the trainers of Hitch Fit, has an extremely positive attitude – that anything you set your mind to, you'll achieve – which is imperative for self-improvement.
Training at Hitch Fit was the highlight of my week. Not only would I get a dose of positivity as soon as I hit the door, but I loved being challenged every week. My favorite? The Hill.
3: What can you take with you into your life after Hitch?
Take care of yourself. Don't beat yourself up. Ask for help when you need it. Surround yourself with fitness-minded people and soak up positive thoughts. Trust your trainer unconditionally. Have fun and enjoy life.
Are you READY FOR YOUR TRANSFORMATION with Nancy Choquette at Hitch Fit Gym in Kansas City?
Email: [email protected]
Call: 816.506.0393
Or call 816-753-8900 and request to train with Nancy Choquette at our Downtown Kansas City Location!
If you are closer to the Overland Park location, please call 816-753-8900 and we will gladly set you up with one of the transformation trainers there!