Transformation by Hitch Fit Transformer Micah LaCerte
Sara 33 contacted me about 4 months ago wanting to get in shape. She was living a very hectic life juggling, relationship, job and children and had put her body and health on the back burner. She started with the 12 week online hitch fit program also coming in to see me a few times per month for a butt woopn workout and to get her bodyfat checked. Her transformation was amazing to me not just cause of the visual change but because she had so much going on in her life and she made it happen. In 12 weeks she lost 15 lbs of fat, tightened up her body but most importantly became more healthy and energized. The lifestyle I taught her was not one that called for 5 hours of workout commitment per day, it was all managable and realistic with her hectic life. She had to make changes within her nutrition, her workouts became more intense, day in day out feeling the changes happening right in front of our eyes.
Read her testimonial Below
I'm 35 years old and a proud mother of twin 3 year old boys! Needless to say, my life is a bit hectic with juggling work and home life. I have always been "active" but never consistent with my workouts. Even when I did make it to the gym, I felt like I was just going through the motions most days and I knew I was not pushing myself as hard as I could. I used to see people in the gym who were really fit and think, "well they haven't had twins, or they don't have this or that going on in their life…" I was hiding behind those excuses because I really didn't believe that my body could change. I am a physical therapist and work on helping people rehabilitate and exercise everyday, yet I was not practicing what I preached. I first came across Micah through a co-worker who's son and daughter in law trained with him (Jared and Holly), and there was an article in a magazine about their transformation. I was impressed, but I couldn't get past how motivating Micah was. I remember thinking, "this guy really cares about these people and is not in this for the money". I hesitated at first and then had a self-reality check that it was time for no more excuses! I knew if I was going to do this, the time was now and Micah was my guy to help get me there.
I was SO nervous at my first workout. I am pretty strong mentally so I didn't want to fail myself or Micah. I couldn't even do 5 push-ups in a row without going to my knees. Micah never let up though….each workout got tougher and tougher…it was like he knew my potential better than I did and he wanted to see me succeed just as much as I did. I sometimes would come to a session with him, thinking "I'm doing good, this isn't going to be so bad today"…..yea right!!! Micah pushed me so hard each session that there were days I would sit in my car afterwards not sure if I had the strength to drive my car home
Most people who have worked out with Micah say this is more than just a physical transformation, and I completely agree! When you conquer your fears and things you never thought YOU could, the energy that transcends through every facet of your life is indescribable. The bottom line, is that there is NO limitations on your goals if you truly believe you can reach them. Excuses are like armpits…everyone has them and they all stink! Stop putting yourself on the back burner and take care of you! If you don't you will never be able to be the person who need and are intended to be for the people around you. Let this be the year you let go of the negative! I will always be grateful to Micah for pushing me to the next level and seeing my potential when no one else could. When you are ready for a major butt-kickin, call Micah…I promise you won't regret it! 🙂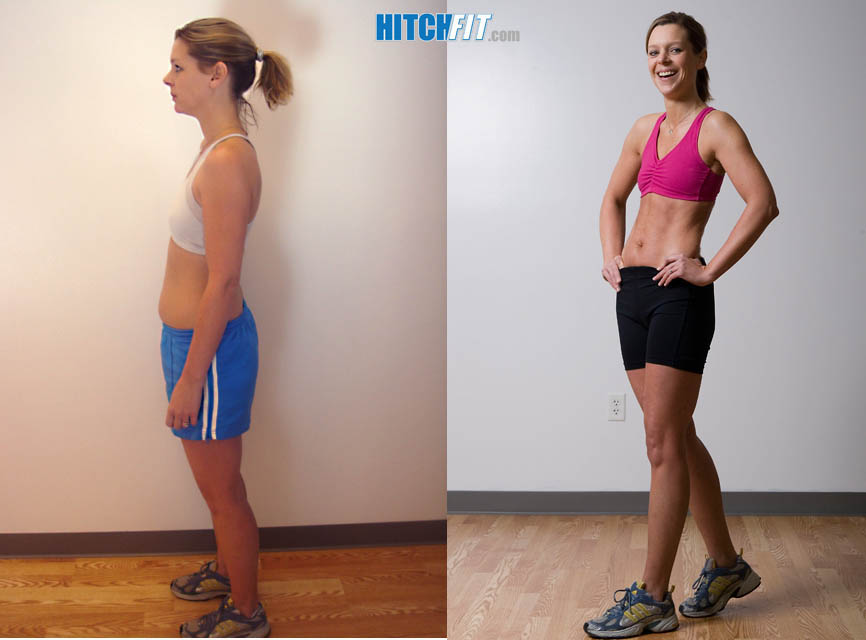 I remember her coming in and thinking everything about her has changed. Her confidence and energy was skyrocket and she was capable of some pretty super intense workouts. Day 1 she was not able to do many pushups and 12 weeks later she is doing clap pushups, pullups and dropsets with ease.. Amazing.
Sara congrats on your hard work!
I wish I could help everyone like this. Its why I do what I do.
Are you READY FOR YOUR HITCH FIT TRANSFORMATION?
To work with Micah visit www.HitchFit.com for all Online Personal Training Program options.
To work with a Hitch Fit Gym Transformation Trainer in Kansas City call 816-753-8900 or write to [email protected] or [email protected]
Kansas City Personal Trainer
Kansas City Personal Training
Kansas City Weight Loss