How to get back in shape!
"Perseverance is commitment, hard work, patience, endurance. Not giving up…even when it's hard."
And this was Kyle; at 25 years young this gentleman stepped into the Hitch Fit Gym doors wanting to make a change for the better. Kyle came in with a goal set in mind that he had been postponing it for quite some time. He wanted to get back down to his weight from about 3 years ago. He also let me know he was ready to do whatever work needed to be done to get there. And let me tell you that's exactly what he did. He did amazing and even with taking a trip for his birthday and traveling for the Holidays, he managed to stay on track and even lost some more weight during the process. Kyle always gave 1000% and made sure he was doing everything that needed to be done for him to be successful. His determination excelled from day one until the end of his sixteen week transformation. He started as the shy quiet young man that flourished into a strong, confident, outgoing and healthier husband.
Your dedication shows in the tremendous changes you have made these past couple of months!! Congratulations Kyle!!!! You are a rockstar!!
Kyle's Before and After Weight Loss Stats:
Initial Body Fat: 25.02% Final Body Fat: 14.16%
Initial Weight: 217 lbs Final Weight: 184 lbs
Initial Waist: 42" Final Waist: 34 ¼"
Initial Hips: 47 ½" Final Hips: 43"
Kyle's Before and After Weight Loss Pictures: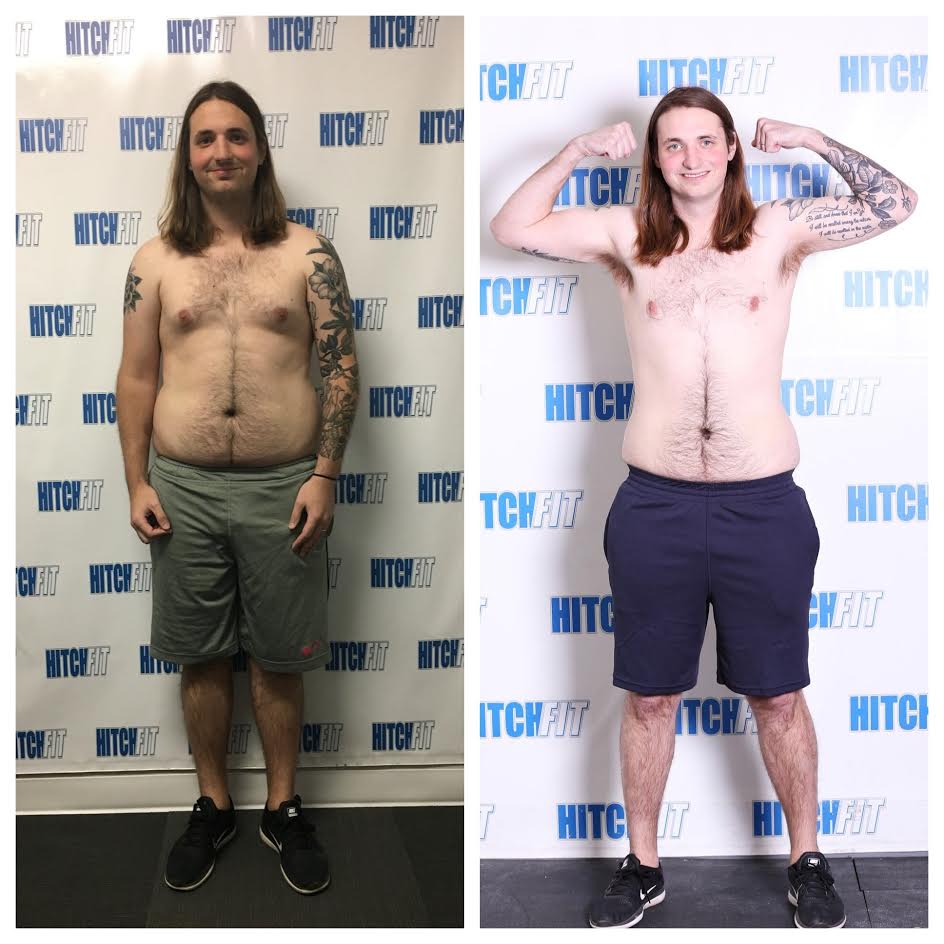 Kyle's Story and Hitch Fit Gym Review:
I came to find Hitch Fit when searching for a solution to gain control over my weight. I found my poor diet and lack of education to keep myself motivated in the gym compiling. Hitch Fit seemed like the perfect solution with a focus on wellness in a 1 on 1 environment. I was given a realistic meal plan to change my poor diet even considering my picky habits. The home workouts were challenging without being unrealistic. The whole program was designed to be realistic and attainable. All Hitch Fit asks for is your commitment for the duration of the program. Even your best effort to follow the guidelines is sure to yield great results.
After the first week, I began to start seeing the weight come off and feel as if I was getting "in-shape". The regular measurements and weigh-ins reaffirmed this and only increased motivation. Before I knew it, this new lifestyle became routine and I had knocked off 17 lbs. to get me below 200 lbs. With this victory, I was able to keep going with the constant encouragement of my trainer and the whole Hitch Fit staff. In the end, I had more result than I could've expected. I found ill-fitting clothes much more comfortable and was happy to replace previous 36-38-in. waist pants with a 33-in. size. In addition to looking better, the diet and exercise made me feel more energetic during the day and I now had the motivation to do my own exercise in evenings.
Overall, the process is something designed for success. My trainer was helpful every step of the way and genuinely cared I felt I was doing a good job. She always took into account various factors such as the holiday season and provided ways to stay on track while still enjoying social activities and busy schedules. The whole Hitch Fit staff was friendly and make sure your experience is enjoyable. I believe if you're serious about making a change to your personal health, Hitch Fit can be the missing piece to help you overcome any obstacle and walk away with the results you want.
My biggest goal in this process was to end feeling like I could continue managing a healthy lifestyle on my own. With the provided meal and exercise plans, along with my new outlook on my health, I feel confident I can continue to live a healthier life.
Are you READY FOR YOUR TRANSFORMATION?
Sign up for a FREE Consultation, Body Fat Assessment and Workout at the link below!