Kansas City Entrepreneur and Busy Dad Transformation
Ben is a busy dad and entrepreneur who improved his health and got Six Pack Abs at Hitch Fit!
Transformation by Hitch Fit Gym Kansas City Personal Trainer Micah LaCerte
A note from Micah:
In 12 weeks Ben Transformed his body inside and out sharing with us all how he achieved Happiness and Amazing 6 pack abs. It was a honor to work with Ben. He 100% committed to the process and the results show. Now he understands the importance of balanced eating, hard work and proper lifestyle so he can stay FIT For Life!! Perfect example of Hitch Fit. Proud to call you my friend . Now go and Inspire the World DJ Shredded!
Ben's Before and After Photos:
Ben's Story and Hitch Fit Gym Review:
Hitch Fit Gym changed my life. Not only from a physical standpoint but through each endeavor I face moving forward now. I started going to Hitch Fit Gym because I was scared of one day not being able to have the energy to run around with my 3 kids and be as active as they needed Daddy to be. A few years back I suffered from a string of anxiety/panic attacks that landed me in the emergency room on 3 separate occasions due to insomnia, dehydration & stress. At that point in my life I was about 182 pounds and a one pack stomach. A wake up call came when I went to see my doctor and he said that I had high cholesterol and that I needed more Vitamin D. I had to cut back on fast food a lot more and also take Vitamin D3 capsules every day.
A few months after this in August, all 3 of our children had to visit Children's Mercy for one thing or another. Our oldest son suffered from a asthma attack and couldn't breathe. He had to be rushed to Research Medical Center and then transported by ambulance to Children's Mercy. He has suffered with asthma for majority of his life and has to keep his inhalers handy for any high movement activity. During this month, we also noticed a change in our youngest son's health. He was losing weight, urinating frequently and wetting the bed multiple times a night, and only wanted cold water. My wife ended up taking him in to his pediatrician for a blood test. She called in a panic crying and said they immediately told us to take him to the emergency room at Children's Mercy. Later that day, he was diagnosed with Type 1 Diabetes at 4 years of age. He is now insulin dependent and hope and pray there will be ways to make it more manageable to deal with as he grows older. Both of our boys deal with asthma and use their inhalers and nebulizers as needed. Our youngest son also deals with severe food allergies and eczema.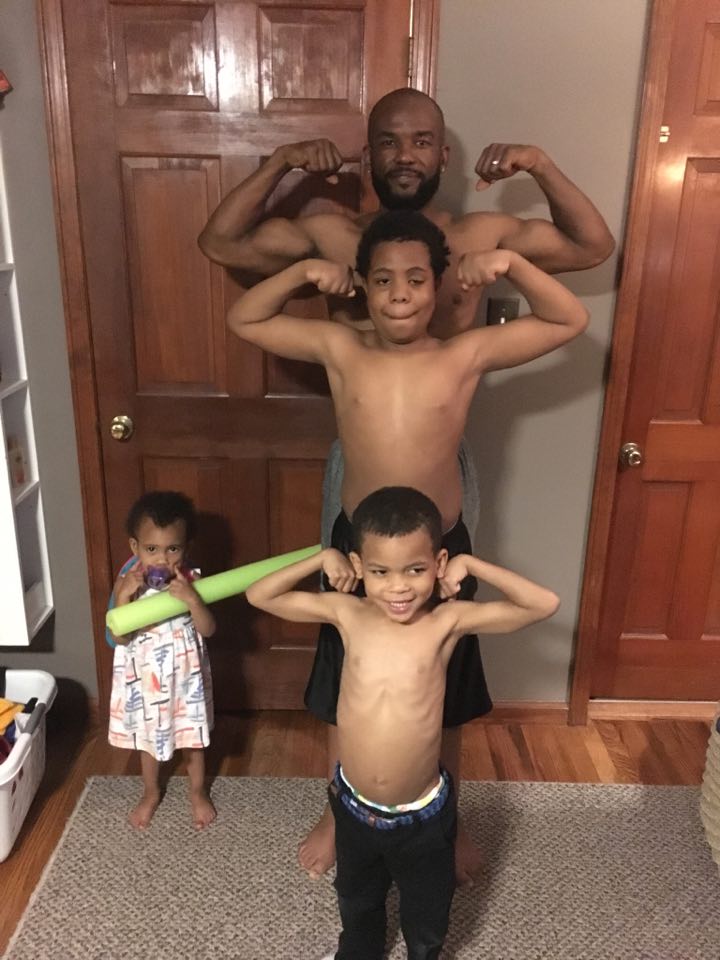 After adjusting to our youngest son's needs, we started being more aware and informed about our health. I wanted to set an example for our children by changing my eating habits, working out more and getting in top shape. I do this for them, so that as they grow I inspire them to live a healthy lifestyle by setting the example.
I first met Micah through Big Brothers Big Sisters of Greater Kansas City. We both were 2016 Most Wanted honorees with our wives and helped raise a combined record breaking total of $429,621 with the other fundraising nominees.
2016 Big Brothers and Big Sisters Of Kansas City Most Wanted Honoree Class
The day I decided to start my journey with Hitch Fit was one night in celebration of the Most Wanted event held in December. We were all at Tom's Town in downtown Kansas City, and Micah was one of the first people I spoke to when we arrived. Throughout the night, I was stuffing my face with all the food in sight! All kinds of bad carbs, sweets and a few libations. I sat down with Micah, after feeling so guilty, and just started asking questions about how to eat better and build muscle. He was more than generous with information and answering the questions I had. I told him that I wanted to get started with HitchFit very soon and start the transformation journey!
After leaving the event, I started following him on every social media outlet possible to understand who he was a person and learn more about HitchFit. After seeing a picture he posted on Instagram of his grocery run, I went out and purchased everything he purchased in the photo.
My first day of one on one personal training at Hitch Fit Gym in Kansas City was on Tuesday, March 7, 2017. I wasn't prepared at all for the first workout because I didn't eat enough to fuel my body. After about 15 minutes of a hard core workout, I found myself running to the bathroom to vomit. I knew that I wasn't going to let this happen again and I didn't want to feel the way I did anymore about my body or my health. I was determined to make a change for my life…so I did just that. I dropped 15 pounds from 174 to 159 and went from 14% body fat to 6% body fat.
My wife Nia and I have been blessed with 3 kids. Eusavio (12), Zion (5) & Zoe (2). 2016 was one of many changes for us. I quit my job of 10 years as an electrical engineer and made the jump to being a full-time entrepreneur. I have been running my media production company, Ben Rich Productions, LLC for 10+ years. I provide DJ services, photography services & graphic design/printing services. I am a real estate agent with Reece Nichols Real Estate. I am also the Engineering & Technology instructor at Benjamin Banneker Charter Academy of Technology leading the new STEAM Academy. I have been labeled as the "Modern Day Renaissance Man". I love being involved in my community of my hometown Kansas City, KS and my place of residence in Kansas City, MO. I am a proud graduate of Prairie View A&M University where I received my bachelor degree in 2006 in electrical engineering and received my MBA from Park University in 2011.
There has been several times that I made a resolution for the new year to eat right, get in the gym and do something major about my health. I struggled with keeping the goals going after about 3 months into the year. Instead of waiting every January 1st to make the commitment, I started when it mattered. I started when my health wouldn't allow me to wait until the beginning of the next year. If you are in a place you don't like concerning your health, consider looking into Hitch Fit. Once I started, I wish I would have done it much sooner but there is no better time than the present! My confidence level is off the charts and I feel like superhero now. I honestly feel in better shape than what I did at 18 years old. I am currently only 9 pounds heavier than I was in my senior year of high school verses the 32 pound weight I reached when I was in the worst physical shape of my life. May I also mention that I have muscles now and a six pack!
I'm free of asthma & migraines, and my seasonal allergies & hay fever have improved significantly! Micah has been a great personal trainer and an awesome motivator to help me reach the goals I set out to achieve in the beginning. I'm thankful and blessed to have a great new friend and brother in Christ! He has been a great mentor over the past 3 months for me and I can't say thank you enough for the way you have changed my life forever! I love you guys! #HitchFit4Life
Are you READY for your Transformation with Micah LaCerte at Hitch Fit Gym Kansas City?
Contact him today at [email protected]
If you are closer to our Overland Park location please call 816-753-8900 to be set up with one of our transformation training team at that location.
If you are not in Kansas City area and interested in Online Personal Training visit www.hitchfit.com/programs .