48 and Fit at Hitch Fit Gym!
Transformation by Hitch Fit Transformer – Kansas City Personal Trainer Diana Chaloux – LaCerte
Anissa was always looking for the right recipe for success to help her achieve her fitness goals. In 48 years, she still hadn't found it until she came to Hitch Fit Gym. Anissa completely changed her mindset, her eating and exercise habits, and started to see the changes in her body she had always hoped for! Her story is an inspiration to women who want to get fit after the age of 40, and aren't sure what is possible to achieve. If you want to get in the best shape of your life, contact Hitch Fit today to see how we can help!
Anissa's Before and After Weight Loss Stats:
Ending weight: 134.8
Starting body fat% – 38.63%
Ending body fat% – 17.32%
Starting Lean Body mass: 99.42 pounds
Ending Lean Body mass: 111.45
Total fat weight lost: 39.3 pounds
Inches Lost:
Thigh: -1.5 inches
Shoulders: – 2.75 inches
Hips: – 5 inches
Waist: – 9 inches
Anissa's Before and After Weight Loss Pictures: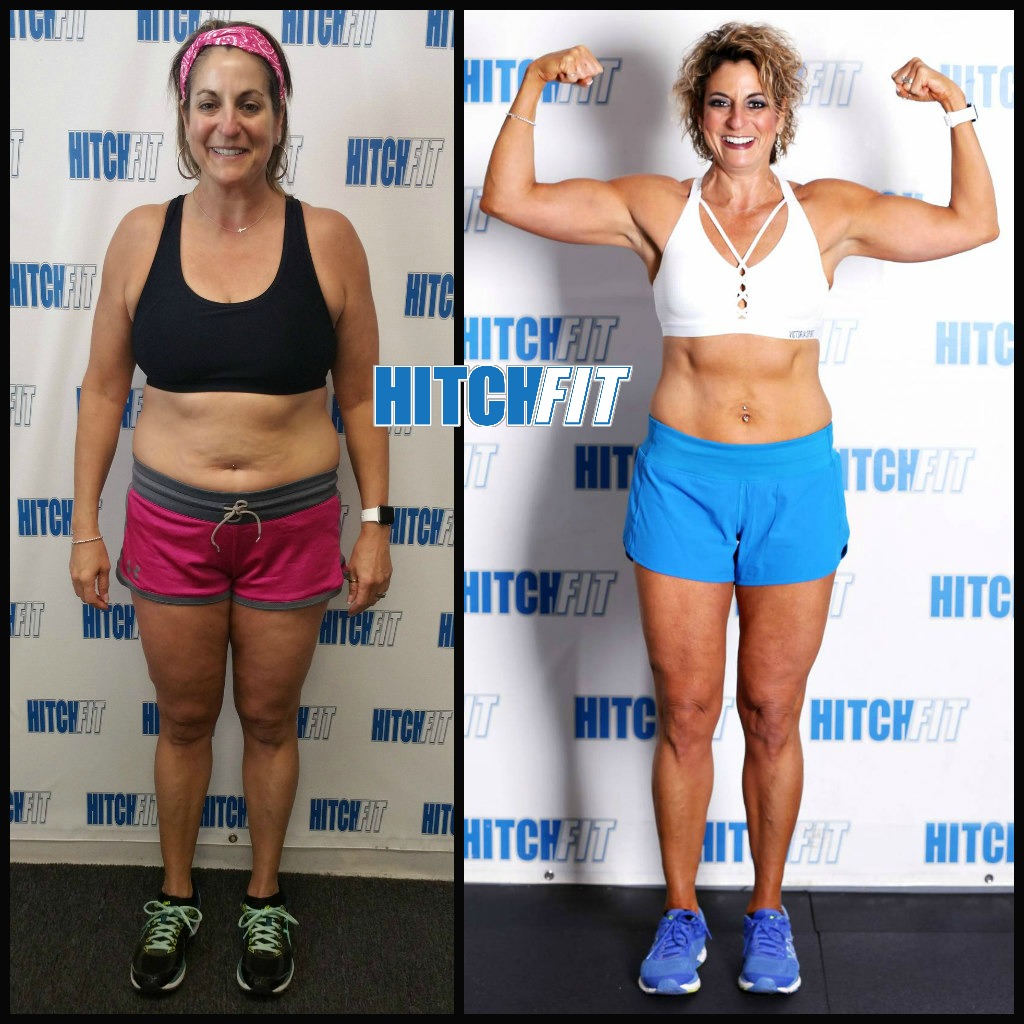 Anissa's Story and Hitch Fit Gym Review:
"It is a true honor to be able to share my story, as I believe it is one that will resonate with many people. I am inspired by others and hope that I am able to encourage a few people along the way. The people who will identify with me are looking to go from "good to great" and have been searching for the right combination of nutrition and exercise that will maximize the ability to lose fat, gain muscle and feel amazing. After years of looking for this formula (and believe me, I have tried everything), I am so pleased to say that I have found it and it is not super-secret, nor does it require a chemistry degree to understand it! Hitch Fit has taught me how to eat the right macros (protein, carbs and fat) at the right times during the day as well as an exercise regimen that entails a mixture of strength and cardio exercise.
I'll back up a little and share that when I was born, I had hip dysplasia and underwent several procedures/surgeries during my first two years of life. I was in a body cast for a good portion of this time. Without the tenacity of my parents and their relentless pursuit to find answers, I could have been disabled my entire life. Instead, I have fully functioning legs with just a few scars to show for it. I do not take that for granted and make sure that I exercise every chance I get.
While I never fell in the category of "obese" or "heavy", I have struggled with my self-image and have always been on a "diet". Since I was an adolescent, I had an image of what I wanted to look like (thanks to magazines and super models) and I was always chasing an appearance I couldn't quite reach. I felt the answer was in doing more cardio and watching my calories. I became a cardio junky (running 5 half marathons in 4 years) and was a Lifetime Member of Weight Watchers (where I could eat a candy bar and have a glass of wine as long as I stayed within my points)! In 2015, I started working with a personal trainer at a local gym to increase my strength; however, I my body fat did not go down for the entire 18 months I worked with that personal trainer. That wasn't his fault. I realize now that so much of this had to do with my nutrition and my workouts that I did outside of my sessions with him.
My husband, Rob, and I joined Hitch Fit in February of 2017. I was 47 when I started the plan and began working one-on-one with Diana. The nutritional formula that I have been chasing all my life was finally explained to me in a simple to understand manner. I'll admit, I had to get a little OCD at first to adapt to the new way of eating; however, after just a couple of weeks I truly understood the proper way to eat to maximize my metabolism and to function at an optimal level. It has everything to do with the macros and how much you can have at each meal and which meals you should not have them at all.
I am 9 months into my journey, and plan to complete this last round of 12 weeks right at the one-year mark from when we began and will then go on maintenance. You may be thinking, wow, why is it taking so long? Unfortunately, I encountered some hormonal issues during my transformation. While that was a minor setback, I decided to tackle that head-on. I did quite a bit of research and have everything balanced out now. And, even though I struggled a little, I stayed on the program throughout that process. Imagine if I wasn't on the plan throughout that ordeal … I would have likely put on weight. While it may have been frustrating to "plateau" during that period, at least I did not gain any weight when my hormones were out of whack. Once I got things leveled out, I started losing weight again.
Currently I am down 26 pounds on the scale, and I have gained 12 pounds of muscle, resulting in 39 pounds of fat loss. My body fat went from 39% to 17%! I am not sure where I will be at the end of my journey, but I am striving to reach 14% body fat.
This journey has taught me a lot about nutrition and exercise, endurance, tenacity and perseverance. I am thrilled with my new appearance and the comments I get from friends and family. My self image is very positive as I finally have the body I have always wanted. I earned it through proper nutrition and some serious workouts. I went from a size 8 to a size 4. However, nothing can describe how great I feel. My energy level and my zest for life are off the charts. I feel like a 25 year old and actually look better than I did when I was 25!
Rob and I are having what we refer to as "the time of our lives" and we don't want the journey to end. Therefore, we continue to find new challenges to keep the journey going. Our destination is not known at this point. What we do know is that we will look and feel better getting there and have increased our life expectancy tremendously as a result of our transformation.
Knowledge is power and I now have the power to achieve my goals and maintain them for life. I could have been in a wheelchair only wishing I could get up and exercise, but that is not the case. I never take one good day for granted and hope that you will not either."
If you are ready for your transformation with Hitch Fit Gym Transformation Trainer & Owner Diana Chaloux – LaCerte
Contact her at [email protected] for rates and availability.
To schedule a free consultation with one of the Hitch Fit Gym transformers in either Kansas City or Overland Park call 816-753-8900 or visit the link below: