Fitness over 40 at Hitch Fit Gym Kansas City Personal Training
Transformation by Hitch Fit Gym Personal Trainer – Transformer – Nancy Choquette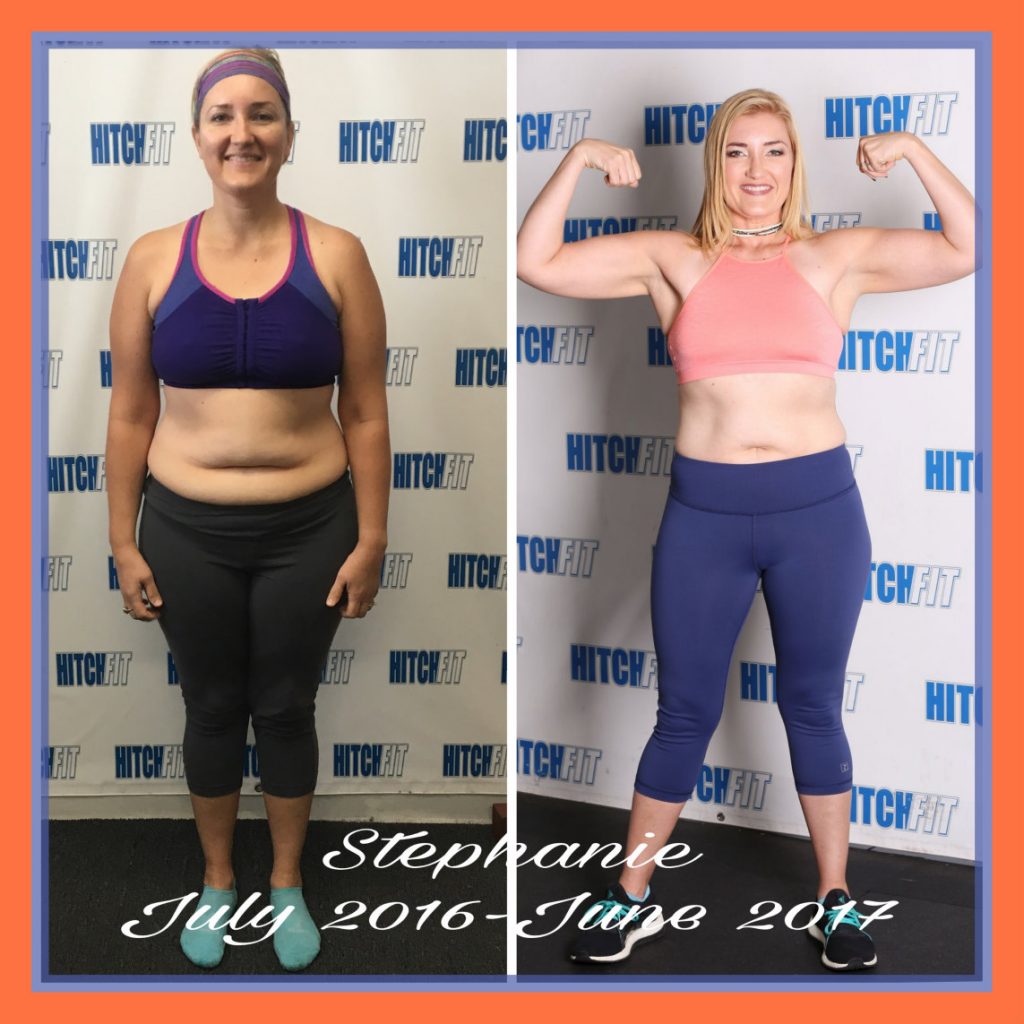 Stephanie's Story:
What was I doing before Hitch Fit?
Before Hitch Fit, I was working out at my gym and doing triathlons but NOT LOSING WEIGHT. My diet wasn't what it needed to be. I started a job and I started focusing on my diet and started losing weight but due to my crazy schedule I wasn't able to workout as often as I would have liked. I saw Nancy's Facebook page and her pictures and thought I should reach out and try something different. I know because of my age, I wanted to start building muscle and maybe be pushed to a new level. I wanted to learn how to lift weights.
My experience at Hitch Fit:
When I walked into Hitch Fit Gym in Kansas City and saw all the before and after pictures it was really inspiring to me. I thought, I want to be up there on that wall. Then Nancy took my before picture and I looked sad. I had achieved a lot on my own but I needed help. Nancy has been so inspiring to me; I'm 42 and I want to be her when I'm her age. I don't want to give up on life. I want to exercise until I die. The trainers are all very friendly and encourage you. They see you and say hi. I was impressed that Micah knew my name and would say hi. He didn't have to do that.
What I learned and I will be able to take with me..
I've learned to eat more food. I didn't think I had biceps;) I've learned I love weight lifting and seeing my body transform! I want to motivate others to achieve this lifestyle!
Are you READY FOR YOUR TRANSFORMATION with Nancy Choquette at Hitch Fit Gym in Kansas City?
Email: [email protected]
Call: 816.506.0393
Or call 816-753-8900 and request to train with Nancy Choquette at our Downtown Kansas City Location!
If you are closer to the Overland Park location, please call 816-753-8900 and we will gladly set you up with one of the transformation trainers there!