Fit over 50 Mom!
Transformation by Hitch Fit Gym Personal Trainer – Transformer – Micah LaCerte
Laura is a mom who at age 53 wanted to get in great shape and improve her health and fitness levels! Mission accomplished with Hitch Fit! An excellent example of how you can be Fit over 50 and at any age! Great job Laura!
Laura's 12 Week Results:
Starting weight: 134.5
Ending weight: 123
Starting body fat: 30.91%
Ending body fat: 21.71%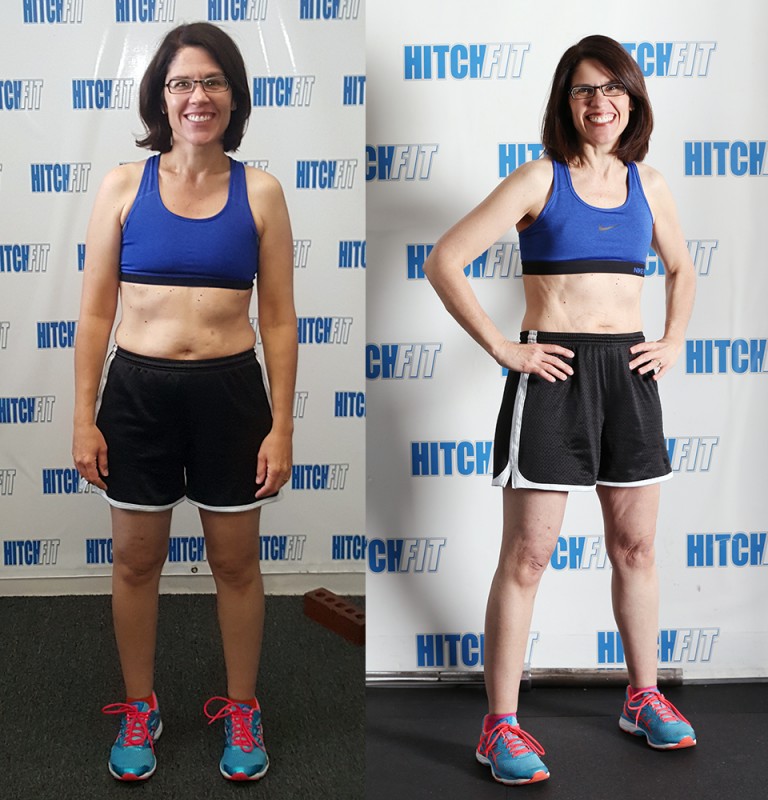 Laura's Story:
In October 2016, at age 53, I started the Transformation Process with Hitch Fit and Micah LaCerte. My goals were to increase my overall fitness level and to get stronger. I had noticed that my upper body strength had decreased over the years. I wanted to be strong enough to lift my own carry-on suitcase above the seats on an airplane. I also wanted to loose a few pounds. Our plan was to work together for 12 weeks, but due to travel, it ended up being 16 weeks, meeting 2x per week most weeks.
During that time, I learned so very much about what to eat and when. Before starting this process, I considered myself someone who knew quite a bit about healthy eating, and followed a somewhat healthy eating plan. What I didn't realize was how much sugar I was consuming, and how important it was for me to get more protein, and how to pair protein with any carbs I was eating. The first few weeks were an adjustment, but truly once I was into the routine, it was easy. I now feel better overall now, I sleep much better, and I have more energy. I also reached my goals! I am stronger! I am so grateful to Micah for teaching me so much during this process, including the importance of continuing to challenge my muscles with heavier weights and also how to eat to train and maintain an ideal weight. Micah also truly helped to increase my confidence every time we met through his encouraging words. I am so grateful to Micah and the Hitch Fit process for helping me be my best!
Ready to transform with Kansas City's Best Personal Trainer Micah LaCerte?
Contact him at [email protected] or call 816-753-8900
Closer to our Overland Park Gym? Submit a FREE consultation request at www.HitchFitGym.com/contact and we will set you up with one of the Overland Park Personal Trainers!